Welcome at Château de Digoine
The estate
The medieval estate of 13 hectare was thoroughly addressed in the 19th century and transformed into an English landscape garden. Signs of the original garden design are still visible today. The private road that leads to the secluded castle takes one through a forest and passes by a 2-hectare lake.
The castle
The castle, which has not been occupied for the past 75 years, has 22 large bedrooms, and many other interesting features, including a chapel and a library. The oldest part dates back to 1233, and the authentic kitchen to 1359.
The courtyard
The ´Maison de Gardien´ (guest rooms) and the ´Maison de Maître´ (main house) are situated in the symmetrical courtyard. The houses and the ´jardin a la francaise´ were built in the 19th century. The Orangery (holiday home) and a dilapidated water mill complex are situated at the other side of the castle.
Guest rooms
The rooms on the first floor of the maison gardinier can be reached by a private stairway.
The spacious double and twin rooms have an enchanting view of the lake or the castle. Each has its own bathroom and wc. If necessary, the rooms have enough space to add one or two extra beds. The rooms are furnished with antique furniture, some of which is from the castle.
The common room/breakfast room on the ground floor is heated by a wood-burning stove and has a cosy seating area with beautiful views of our Castle.
Spread throughout the estate are comfortable chairs (Canadian bairchairs) and other seating areas. Outside at the castle is a ceramic chess game.
Breakfast is served outside when the weather is nice.
Maison de Brenet / Hunting Lodge
The holiday home located near the elegant main gate, overlooking the lake, was originally the quarters of the master of the estate´s pack of hunting dogs. This characteristic, spacious hunting lodge can be rented as a luxury holiday house for 2 to 4 people.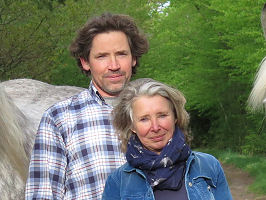 Enjoy the peace and quiet of the Digoine estate and its castle. Each season has it´s own charms. Because of its sheltered location it is lovely to visit any time of the year. Feel free to roam around the property of 13 hectares. Why not take a walk by the lake and at night, admire the stars and listen to the many owls?
We, a Dutch couple, welcome you with Burgundian hospitality.
Hope to have you as our guests.
Matthew & Jit Poventud
0033 (0)3 85 49 51 47